Biomedical Electronic Engineering Taster Course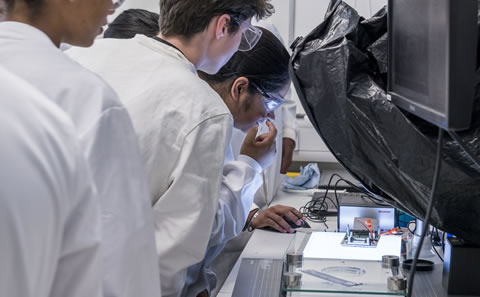 The Biomedical Electronic Engineering Taster Course lets you experience the cutting edge interface of electronics and healthcare technologies. We will teach you how to design and construct a miniature biosensor and analyse its performance by measuring samples representative of three different diseases. You will also learn about miniaturised "Lab-on-a-Chip" diagnostics, smart prosthetics and signal analysis techniques for wearable healthcare.
The Biomedical Electronic Engineering course (27th July – 31st July 2020)  will enable you to have the opportunity to live life as a university student and enjoy a busy programme: 
Try your hand at real experiments in our state-of-the-art laboratories
Learn about our teaching and research from our globally renowned lecturers
Get to know our current students and recent graduates
Enjoy social events and meet fellow students
Experience life on campus and in our halls of residence
Meet leading employers at our annual Taster Course Careers Fair.
No previous experience of electronics, computer science or programming is needed as you will have lots of supervision in our high-spec labs with outstanding facilities. However, if you already have good skills in these subjects you will get the opportunity to extend these skills and apply them to new problems.
The course commences at 11.00am (registration from 10.00am) on Monday 29th July and finishes at 2.00pm on Friday 3 August 2019. If you would prefer to arrive on Sunday 28th July, overnight accommodation and dinner on Sunday night, and breakfast on Monday are available for an additional £55.00. Overnight accommodation is not possible on Friday 2 August but we can provide a list of local hotels.
What is Biomedical Electronic Engineering?
Biomedical electronic engineers consider innovative digital health solutions to address the growing pressure on healthcare providers created by an ageing population and an increase in chronic disease. By combining electronics and biomedicine, new healthcare technologies can be created such as home monitoring and intelligent diagnostics and treatment.