Biomedical Engineering (Electronics) Taster Course
25-29 July 2022, 
course fee £299
(
reduced rate and full bursaries available
)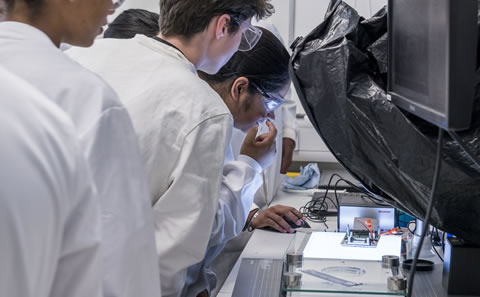 Learn about the new and innovative health and wellbeing technologies that biomedical engineers create, from AI assisted diagnostics & digital health systems, to rehabilitation technologies and implantable sensors. We will teach you how to design and construct a biosensor and analyse its performance, collect & analyse your own muscle movement signals using neural networks, and build a heart rate (ECG) sensor. You will also learn about miniaturised "Lab-on-a-Chip" diagnostics and smart signal analysis for wearable healthcare.*
*COVID-19 Policy
We accept that our best-laid plans may have to change as a result of the ongoing pandemic. We are committed to running a safe and enjoyable course.  
If we decide to cancel the course, you will receive a full refund;
If we decide to change to online delivery, you can choose to either 1) cancel and receive a full refund, or 2) attend the online course and receive a partial refund for the difference in course fee;
If you are unable to attend due to government guidance at the time of the course (e.g. a requirement to self-isolate), you will receive a full refund.