Electronics and Computer Science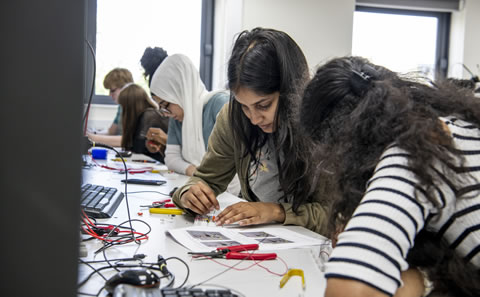 If you love maths, technology or science, this course will enable you to apply your skills to computer science and electronic engineering. You will work in groups, investigating and designing solutions to real-world problems in our state-of-the-art undergraduate labs.
On the Electronics and Computer Science Taster Course you will have the opportunity to live life as a university student and enjoy a busy programme:
Try your hand at real experiments in our state-of-the-art laboratories
Learn about our teaching and research from our globally renowned lecturers
Get to know our current students and recent graduates
Enjoy social events and meet fellow students
Experience life on campus and in our halls of residence
Meet leading employers at our annual Taster Course Careers Fair.
No previous experience of electronics, computer science or programming is needed as you will have lots of supervision in our high-spec labs with outstanding facilities. However, if you already have good skills in these subjects you will get the opportunity to extend these skills and apply them to new problems.
This course runs: (27th July – 31st July 2020) 
What is Computer Science?
We use computers in every area of our lives; but getting computers to do what we want them to do requires specialist expertise and knowledge. Computer science is a problem solving science, modelling and analysing problems and providing solutions in engineering, health care, business and industry.
What is Electronic Engineering?
Electronics is the use of electricity to communicate, compute and control the world around us – from the processor in your phone, to the intelligent prosthetic arms that allow amputees to lead a normal life. Electronics is an engineering discipline and is underpinned by mathematics and physics. These are applied to designing and inventing cutting-edge products and systems.